Artificial Intelligence (AI) in Cancer Care
Interview conducted by Kate Anderton, B.Sc. (Editor)Dec 12 2019
insights from industryMatej AdamEuropean Oncology and Genomics LeadIBM Watson
It is no secret that artificial intelligence is being tested in clinical settings around the world, but is it a realistic ambition to apply sophisticated algorithms to outdated healthcare systems? We speak to Matej Adam about the research being carried out by IBM.
As a multibillion-dollar company, why is IBM investing in artificial intelligence for the healthcare sector?
We invested in artificial intelligence by developing an AI platform, Watson, named after one of the founders of IBM. When we were developing the technology, it was evident from the beginning that its use in healthcare would make sense for multiple reasons.
Image Credit: Gorodenkoff / Shutterstock.com
One reason is that AI can help to sift through a lot of unstructured data of different types and formats. Healthcare involves a mass of unstructured data; there is no uniform approach for most of the clinical notes and information that researchers would like to analyze. Currently, this data is used to inform individual patient cases, but it is too difficult to be analyzed and put to use beyond that.
AI can be used to extract insights from that ocean of data, which is constantly growing in size and complexity. Meanwhile, healthcare costs are rising and there are increasing issues with staff, access and coordination. We believe that our AI has significant potential to cope with some of these burning healthcare problems.
Which fields of medicine is artificial intelligence most suited to, and why? What makes this technology so useful for oncologists?
We tend to use the term 'augmented intelligence', in order to illustrate the fact that we are not in the business of replacing people or replacing professionals, especially in healthcare. Our technology is an aid. It can be allegorized to using GPS in a car – the GPS helps to navigate, but the person is still the driver.
From this perspective, artificial intelligence has great potential anywhere where there is lots of data. Healthcare is a particularly prominent example of this, because it is lagging behind a lot of industries in terms of digitization. Most of the time things which are routine and repetitive are still done manually, and the system would be greatly benefitted if taken over by automation with all the necessary security and privacy measures.
This could free up the capacity of the professional – the doctor or the nurse – for more value-add tasks rather than routine and repetitive ones. Almost wherever you look in healthcare, there is untapped and incredible potential to improve.
Take the example of oncology, which is one of the areas we are specifically focusing on. There are 70,000 new studies, articles and pieces of evidence every year in oncology. This cannot be tapped into by an individual. However, we can feign a system to assist with orientation and bring forward the relevant pieces of the information.
The individual working on it will then have to spend less time navigating the information and can spend more time studying the patient case and studying the evidence-based information out there. This is one area we have progressed in, amongst others, and there are many more we want to expand into.
You recently revealed 22 new studies at the American Society for Clinical Oncology (ASCO) 2019 annual meeting. Please can you summarize the most significant studies?
Watson AI has been put into clinical studies from the beginning in order to be sure it has been tested sufficiently. This is generally how healthcare technology is worked on and tested.
Four or five years ago, we began tests to look at aspects like whether the natural language processing worked and whether the system was able to find data in the unstructured text of studies. As we moved forward, one of the things we looked into in particular was clinic decision-making support in oncology.
Our job here was to help bring all this evidence-based information personalized around the particular operation to the oncologist or to the Multidisciplinary Team meeting in order to aid their decision about how to treat the patient.
After we tested that this technology worked, we started comparing the suggestions of Watson to expert panels, looking at the level of cohesion and concordance between experts and the system. These studies were highly successful, which is leading us to believe that our system can match the opinions that you would get from top institutions and experts.
From these studies, we tapped into some interesting problems which our technology can help with, such as unwanted care variability. This means that someone who enters the healthcare system with a problem can be treated differently in different hospitals, or even within the same hospital if under different circumstances.
Unfortunately, there is no common, universal protocol and solution for every problem. This level of variability is not good from a clinical outcomes perspective or a cost perspective, and there are many healthcare systems and organizations that are working on reducing it. Some of the studies focused on the impact of using Watson to make decisions, with interesting results.
We are working with healthcare policymakers to change processes and alter working practices very gradually, with increased decision-making aided by Watson. So far, our findings show that using Watson, clinicians were more able to choose an optimal treatment for a particular patient.
We did an interesting comparison between the effect on subspecialists with in-depth knowledge of their subject and a specific type of cancer, who keep up with literature and studies, versus generalist oncologists who deal with a lot of types of cancer and an overload of information.
We saw a significant positive impact on the decisions of generalist oncologists with early implementations of the technology. This indicates that there is significant potential for our technology to help how treatment decisions are made.
How are the findings from these 22 scientific studies being used to inform further research?
Related Stories
We are working on regional studies. Watson is being deployed on five continents now in a number of hospitals. It seems to be important in particular countries to have local studies because this is how their healthcare works in terms of delivery of care; people are focused on their local reality and conditions. We are bringing studies and research locally.
We are also evaluating the impact of the technology. Eventually, in time, we will be able to determine the cost impact of better, altered decisions. This will allow us to determine the practical implication for local specific healthcare systems.
Are there any barriers that need to be overcome before artificial intelligence can be used in a healthcare setting?
There are two barriers:
The first one is to do with the quality and form of data. Most healthcare data organization and capture is rooted in the fact that somebody has had to send an invoice, refund, health insurance request, or something similar. It depends on where you are and the type of reimbursement system.
Gradually, real clinical information is captured. However, the form and the quality is an issue, because there are a lot of differences in how well this is done by different healthcare providers. This influences how the data can be analyzed and processed. If poor quality information goes in, the analyzed result will be poor quality.
The second barrier, which is more challenging, is the people. This side of healthcare can be very conservative. This is good from a medical perspective because it means that people are not treated differently every day based on what someone has internet-searched the day before. The clinical studies help establish guidelines for this.
Furthermore, introducing these processes has implications for the level of care organization and coordination that can be delivered. This is less applicable to medical aspects, and more to workflows. People are naturally resistant to change.
Clinicians need to accept and adopt these practices, which is difficult. We are very focused on working through that, and helping practitioners to understand that this is not a replacement business, and will actually help them and provide many benefits.
Download: The Challenge in Oncology and Genomics.
Do you think that the general public will need to be educated about artificial intelligence before it can be used as a supportive diagnostic tool?
We have studied the use of AI in patient care and decision making. From what we have seen, the patient and their relations are not a problem. Feedback has been positive with no need for any sort of campaigning.
However, there is a consensus that we need to explain to society what AI means, and that it is not an army of robots taking over the systems; instead, it is basically a collection of tools. At IBM, we have published our values and a code of conduct regarding AI. This includes concepts like the fact that we do not use data without the provider's understanding of it, unlike many other businesses out there.
We are not in the business of replacing people; we aim to replace tasks and free up capacity for more valued tasks. In fact, we are actually in the business of creating new jobs and competencies which did not existent before.
I think that this transparency is necessary because ultimately it is a matter of trust. Both the general public and the professional audience need to trust our technology.
How do you think the healthcare landscape will change over the next decade? Will we begin to see artificial intelligence being used in the clinic?
The change is already taking place. AI data is already being used, particularly by new generations of medical professionals who are working with the data more naturally.
However, healthcare systems need to be working on significant steps and adjustments for sustainability purposes. There are very problematic cost trajectories for factors like aging populations and disease burdens over the next decade.
In the next ten years, we are hopefully going to see healthcare professionals spending less time on mechanical, repetitive tasks and more time on valued tasks.
Where can our readers find more information?
Key ASCO Presentations:
Highlight from ESMO:
About Matej Adam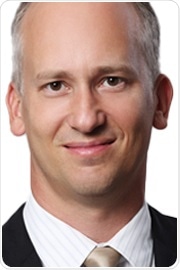 Matej Adam leads IBM's oncology portfolio in Watson Health across EMEA, leveraging AI technology into clinical practice. With 20 years of experience, Adam is an executive focused on information and communication technology in healthcare and life sciences.
Previously, Adam led the design and development of several national healthcare information exchange projects and consulted to regional and national governments on e-health and health IT strategies to improve healthcare outcomes.
Passionate about new technology deployment, Adam has managed several transformation projects of patient safety and hospital process improvement and led IBM`s global healthcare provider solution strategy and portfolio.
Adam is an MBA graduate of Henley Business School at the University of Reading in the UK with a focus on finance and information technology. In his spare time, he enjoys skiing and traveling with his family throughout Europe.
About Watson Health
Watson Health is a business unit of IBM that is dedicated to the development and implementation of cognitive and data-driven technologies to advance health. Watson Health technologies are tackling a wide range of the world's biggest health care challenges, including cancer, diabetes, drug development and more.
Source: NewsMedical